The Bag Family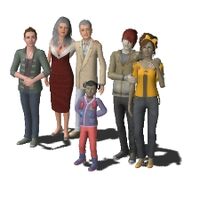 The Bag Family at the end of the Generations LP
The Bag Family is the first central household featured in The Sims 3 series. The household currently consists of 8 members of the family, including the new generation of The Bags. The family has appeared in every play through Andrew has made (excluding The Sims 3 World Adventures and The Sims 3 Supernatural) with different family members of the household. They also appear in The Sims 4: City Living and The Sims 4: Vampires. 
Members of the Bag Family
Edit
The Sims 3: Combined
Edit
As revealed in the first season of The Sims 3: Combined, Plastic Bag is one of the members of the first household to be played in the season, along with his girlfriend Keely; and Jason Parker. When the season ended, half of the household (Plastic, Keely and Jason) decided to move to the beautiful Isla Paradiso, where Plastic and Keely got married and started a new generation of The Bag family.
The family currently lives in Isla Paradiso and may return in a future season of the series.
The Sims 4: Vampires
Edit
The Bags return! The series follows Garbage and his family following Mercury Gringham Bag's death.
The Bag family has almost appeared in every Let's Play and playthroughs of The Sims 3 Andrew has created, except for World Adventures and Supernatural.
As revealed in the second season of Combined, the name of Mercury's second child is Goodie Gift Bag and for short, she is called Gigi Bag.
Plastic and Keely are the only members of The Bag family to enroll in college.