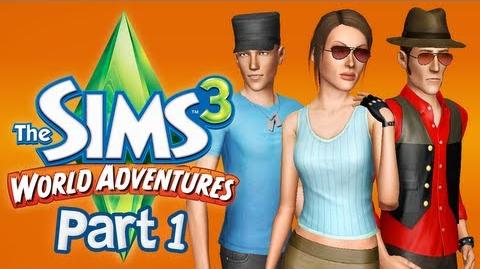 The Sims 3 World Adventures 
is an Sims 3 World Adventures expansion pack playthrough created by 
AndrewArcade
. The series followed the lives of 
Lara Croft
, her husband 
Sniper Red
, their son 
Scout Red
, and their housemates 
Sookie Stackhouse
, and 
Yalitza Beyotch
. The series premiered on late 2009, and ran for 32 episodes. The series ended possibly in early 2010. 
Five brave and experienced Sims adventures travels across the globe, where they could discover the hidden treasures and relics of the tombs beneath every country. Lara Croft and her family decide to explore the tombs of Egypt and take up the challenges that approach them. Yalitza starts practicing Martial Arts and ends up mastering the skill itself. And finally with Sookie, who was making and delivering nectar around the beautiful country that is of France. 
Main Characters
Edit
This was the least favorite playthrough of AndrewArcade and received less views when they were re-uploaded on March 16th 2012, upon welcoming Andrew back into YouTube.
A continuation at the end of Ambitions, where the original members of The Bag Family and Bill Compton had visited France, where the playthrough was last seen, and had ran into half of the original cast of The Sims 3.